Our Team

BENEFIT FROM OUR EXPERTISE AND PERSONALIZED SERVICE FOR A SMOOTH TRANSITION FROM HIGH SCHOOL TO UNIVERSITY – We are a full-service provider.  See below for details.
Select College Admissions is an educational consulting organization. We bring together like-minded professions under one umbrella to help families navigate complex educational decision-making. We partner with each family and related service professionals to provide an integrated and meaningful experience. Our services include consulting for university and graduate school preparation and admission including course selection and summer program guidance, standardized test preparation, athletic recruitment, motivational and performance coaching, study and organizational skills coaching, as well as personality, interests and career assessments. We also offer school placement services.
Bibi Malek is the founder of Select College Admissions and its principal advisor. She is a graduate of Brown University in Providence, Rhode Island.  She then obtained her Master's Degree from Harvard University's Graduate School of Education. Bibi lived in the United States until 1990, when she moved to Canada. She currently advises students both in Canada and internationally on the increasingly selective university admissions process.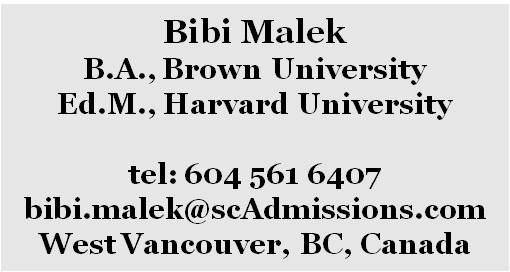 Bibi has tremendous insight into what makes for a successful college application and the key differentiators which university admissions officers are looking for. She has formerly been an interviewer and the area chair, coordinating all interviews for Brown University's Alumni Schools Committee in British Columbia. Bibi is married to an M.I.T. alumnus and has the very personal experience of guiding their two sons through their successful application process to Stanford University, to Rice University, and to graduate programs in engineering at the University of British Columbia and at Stanford.  High schools seek out Bibi's expertise in articulating a mission statement, designing a school profile, presenting informational talks to families about the application process and for student referrals for post-secondary admission consultation.
Bibi takes on a small client base each year, limiting the number of students she works with in each graduating class, to ensure personalized attention. She has worked with students from across Canada, the U.S., and around the world and is able to assist both in person as well as via email, Skype, and other online tools.  Bibi is one of only a handful of professional members of the Independent Educational Consultants Association (IECA) in Canada, the leading American professional organization for independent educational consultants in private practice. She is also a member of HECA (Higher Education Consultant's Association) and International ACAC (Association for College Admission Counseling), all of which are U.S.-based.  In an effort to stay on top of trends, Bibi attends U.S. conferences on university admission each year, participates in workshops, seminars on university-related topics and spends a significant amount of time visiting campuses to best facilitate matches between her clients and potential colleges and universities.
As a full-time educational consultant, Bibi has extensive knowledge, expertise and experience to support students and parents with good, insightful information. She is eager to put her skills and experience to work for each of her students, enabling them to present their best case for admission and promoting healthy, constructive decision-making. With successful student placements from Harvard and Princeton University to Whitman College in the state of Washington and Mount Allison University in New Brunswick (Canada), and from Oxford and Cambridge to the University of St. Andrews in the U.K., Bibi's dedication and passion are proven in her results.
_________________________________________________________________________________________________________________
Elise helps out with summer workshops and essay editing. She is passionate about working with youth to help them rise to their potential and achieve their goals. She respects the fact that individual students have unique abilities and welcomes the opportunity to guide them through the application and writing process, empowering them to find their voice and successfully showcase their strengths through their essays and submissions to university.
Elise is originally from Indiana and graduated from Stanford University with a Bachelor's degree in Earth Systems. She then went on to obtain her Master's degree from Stanford. She has her K-12 teaching certification and has been teaching middle school in California.  Naturally, Elise is passionate about nature, the environment, renewable energy and sustainability and is eager to put her knowledge to use with students who share her interest in writing and in the sciences.
When Elise is not working, she can be found hiking, camping, skiing, wind-surfing and enjoying the outdoors, including equestrian sports. She looks forward to helping young adults find the path that is right for them!
_________________________________________________________________________________________________________________
Collaborators:
Frazer Roland is an expert in teaching the SAT and ACT.  He has 20+ years of experience tutoring all the components of the tests in the United States and in Canada, helping students gain admission to universities across the United States.  He is the founder of Can-Am Test Prep Academy, a college test prep organization known for its excellent results and the individualized care, attention and encouragement given to each student.
Frazer has designed an electronic teaching version for SAT and ACT preparation (including SAT Subject Test prep for Math I & II, Physics, Biology – both molecular and ecological) which he uses to help train students for these standardized tests. His PowerPoint presentations allow him to cover more ground in all the components of the SAT and ACT during each class. This visual approach to instruction is highly successful with today's tech-oriented youth and students are able to increase their scores, thereby maximizing their university options, after completing his course. His tutorials balance skill reinforcement with test-taking strategies, providing comprehensive test preparation. Frazer is constantly reevaluating and revising his material to come up with new and more effective ways of reaching his students.
Frazer brings insight, warmth, and intelligence to each and every encounter. His energy, contagious enthusiasm, and humor make each session a fun learning experience. Time flies when students are absorbed in Frazer's tutorials. He is a veritable dynamo and students feel privileged to have him both as a tutor and mentor!
_________________________________________________________________________________________________________________
Dr. Caroline Clarke is the founder of University Scouting, a Canadian organization dedicated to organizing quality campus tours of universities and colleges in the United States and Canada. She is known for exceptional attention to detail and providing individual care and courtesy to every student and family. University Scouting provides students with the opportunity to tour and visit multiple universities through pre-arranged group tours or customized tours designed with specific needs in mind for the individual student or for the student and family. Caroline's enthusiasm for higher education is contagious and will make visiting university campuses fun, allowing students to make informed decisions about their future.
Caroline attended Trent University in Peterborough Ontario, completing her bachelor's degree with honours in both Political Science and Women's Studies. She then obtained her Master's Degree in International Relations and International Political Economy at the University of Kent in Canterbury, United Kingdom. Caroline completed her doctoral degree at the Brussels School of International Studies in Belgium.
_________________________________________________________________________________________________________________
Alexa Loo is an expert mental coach and founder of Alexa Loo Coaching. A two-time Olympian in the sport of Parallel Giant Slalom (PGS) Snowboarding (2006 Turin and 2010 Vancouver), Alexa knows what it's like to perform under pressure.  She is now sharing and teaching the mental training skills Olympians use to deliver top performances. She not only had to draw on these skills on the world stage, she also relied on them to successfully pass the difficult exams to become a Chartered Accountant and Chartered Financial Analyst on her first attempt.  Through group workshops and one-on-one tutoring, Alexa motivates and teaches students by using stories of her Olympic experiences along with humour and a genuine desire to see her students achieve success. Alexa creates customized, practical methods to help develop the necessary mental skills to tackle university applications and standardized tests.  She helps students craft their Personal Performance Plan (PPP). Her fun and easy to practice drills reduce stress, induce motivation, energy, and focus, as well as increase confidence to support high level performance in all facets of life.
_________________________________________________________________________________________________________________
Nina Rousta assists students in their organizational skills and in mastering the reading, writing, math, and study skills needed to succeed in high school, university, and beyond. She is available for one-on-one tutoring in the following subject areas: Math, English, Science (gr. 10 or below), French, a variety of AP courses, Essay-Writing, IB Personal Project and IB Extended Essay, TOK and IB Internal Assessments as well as help with organizational skills.
Nina graduated from SFU at the top of her class in the English and French Literature program. As well, Nina is a master pianist, representing the London College of Music, and has been teaching piano and tutoring students in academic subjects since 2004. She is absolutely adored by her students.